THE PROMENADE SHOPS AT BRIARGATE UTILIZES TIRE SCRAPS IN PLACE OF MULCH IN ITS SIDEWALK PLANTER BEDS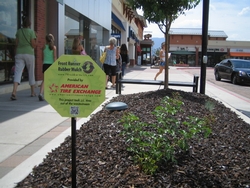 American Tire Exchange has provided Front Runner Rubber Mulch made in Colorado from recycled automobile tires for five of the sidewalk planter beds at The Promenade Shops at Briargate. Each of the five planter beds removes an average of 32 tires out of the waste-stream, around 160 tires in total. The Promenade Shops at Briargate is proud to be the first test location in Colorado for such an environmentally friendly endeavor.
For nearly 40 years American Tire Exchange has been providing a wide variety of tire services including tire sales, disposal, site clean-up, recycling and recycled tire products. They provide disposal services all over Colorado as well as used tires in any quantity to any location nation- wide.
The Promenade Shops at Briargate is an outdoor lifestyle center with 50 fabulous shops and restaurants, like P.F. Changs, Eddie Bauer, California Pizza Kitchen, and Sephora. The center is pet-friendly and with beautiful views of Pikes Peak and the surrounding mountains is the perfect place to spend a summer morning, afternoon, or evening with family and friends. It is located off I-25, exit 151 at Briargate Parkway. For more information on The Promenade Shops at Briargate visitwww.thepromenadeshopsatbriargate.com or call the management office at 719-265-6264.
Comments
comments